Message from President
We are contributing to "the creation of further affluent life" and striving for "the enhancement of the corporate value" as a top dealer of the Plumbing materials Industry.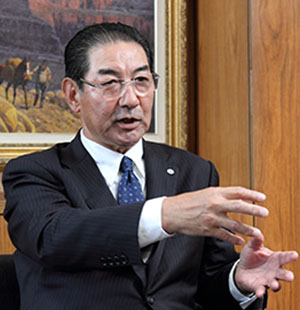 It has been over a century since CREATE was founded in 1916.
Ever since then, we have been developing as we coexisted with society and nature, promoted the plumbing materials business along with our philosophy, "Producing comfortable living environment, Contributing to affluent life.
We are known for a top dealer of the Plumbing materials Industry, because of our business model that we unite trading and manufacturer functions.
Our original brand "TORO" is strongly supported by customers as a top brand.
Our sales and distributional network throughout Japan enables quick delivery,and that is the point customers are highly satisfied.
We are trying to make a good relationship with customers, and offer accurate suggestions with close communications.
It is the biggest advantage for us that we promote a business as we build a relationship of trust with customers.
It is expected that the domestic market will decrease, because of the progress of an aging population and a low birth, and that will be a serious problem to our business.
To overcome it, we need to expand into new divisions with a medium to long term view.
From now on, we should promote the business not only in the plumbing materials field, but in other new ones.
We will keep managing our business honestly, while each employee has a pride of our history.
Also, we will deal with trivial changes of the market and challenge them actively to enhance the corporate value.